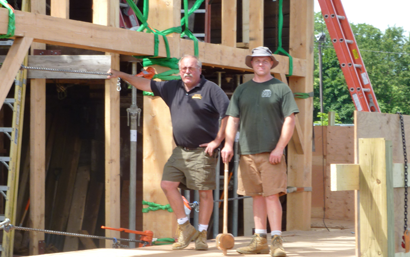 Tom Green and Brad Green at a tidewater mill. This project included rebuilding the whole back wall amongst many other things.

Founded in 1981, Colonial Restorations specializes in the structural restoration of
post-and-beam houses, barns and other historic timber framed structures. Colonial Restorations is managed by the father and son partnership of Tom and Brad Green. Tom is a 1973 graduate of the University of Massachusetts at Amherst and subsequently gained much of his structural expertise working for the railroad, both building tracks and rerailing trains. In his free time, Tom enjoys camping, hiking, and kayaking throughout New England. In 2000, Tom's son, Brad, joined the business after graduating from Wesleyan University in Middletown with a degree in economics. Growing up in the business, Brad has added his considerable timber frame experience, in addition to his training in computers and economics. In his free time, Brad is an avid triathlete and recently completed his first Ironman. He also enjoys the outdoors with his wife and son.
Brad and Tom are lifelong students of the restoration of the New England post and beam timber frame and are always learning something new and teaching others at conferences and seminars on the subject.
Dedicating our skills to the preservation of our historic New England built heritage is a choice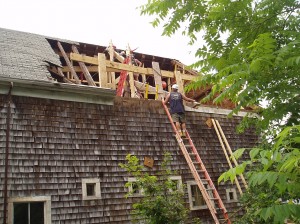 we are proud of.