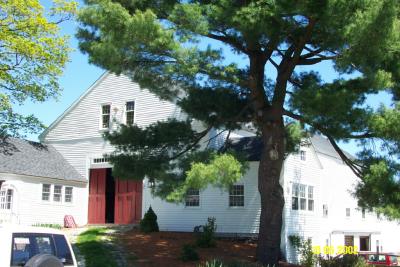 This is a barn in Pepperell, MA. The 110 foot long barn was leaning 18 inches to one side. After the leaning barn was stabilized, it needed a new substructure, new diagonal braces along with new doors and some exterior cosmetics. We also did the structural work on the house.
Colonial Restorations replaced the sills on our 1800 era farmhouse, rebuilt the chimney base, and strengthened the roof supports. They came when they said they would, did exactly what they promised (and more), had the specialized tools and knowledge to do the job, met their time and price estimates, and cleaned up to a very high standard. They were a pleasure to have in the house and to do business with.
Jon Strauss
---
Highly recommended – May 24, 2017
Brad and Tom were wonderful. Their work was high quality and was finished on budget and early! They were both extremely knowledgeable and helpful, and Brad was particularly patient in answering my numerous questions and in helping us figure out the best approach for our sill replacement. I would not hesitate to recommend Colonial Restorations.
Sarah R.
---
Return customer – September 8, 2016
I cannot speak highly enough of Tom and Brad Green of Colonial Restorations. We have lived in our antique house for 16 years now, and like most old homes, some of its previous repairs were good, some not so good. Tom Green worked on this house for its previous owners, and his work was, by far, the best in the house. So, we continued to use Colonial – Tom, then Tom and Brad – as we learned the ropes about caring for an old house – our first house, old or new. Over the years, they have replaced sills and posts and beams, and rebuilt parts of our loose stone foundation. Most recently, they replaced the last original posts in our basement, (one of which was a tree trunk still with bark on it), including pouring new custom footings, in advance of our finally cementing the dirt floor. The work here is never easy – nothing is level, nothing is square – but the Greens' end result has always been beautiful – strong and made to last. Their prices are fair and without hidden costs….maybe not the lowest bid you might get, but you know it's a real bid that they will stand behind. They triage projects for us, giving us an idea of what other items will likely need attention in the next few years. We're not done with this house yet….we've never won the lottery, and there's always another repair….. and plan to use them again soon. I feel confident knowing that the next owners of this house, whoever they might be, will see the quality of the work and know that we cared enough to have the right people help us with the ongoing repair and maintenance of a 275+ year old house. I am a real person, a real customer, with no ties to the company, and was more than happy to write this review.
Shelia D.
---
Barn and House repair – August 13, 2016
Where would we be without you? Resting on bad sills!!! Your work was efficient, knowledgeable, skilled and thorough and you guys are a pleasure to work around as well. Anyone utilizing your services will only be pleased with the result. Thank you!
Dan A.
---
Consistent – August 12, 2016
I have worked with Brad and Tom on several projects and each time they have been professional and efficient. The projects were completed on time with no issues from the permitting authority. I would recommend them to anyone looking for foundation sill work.
Brook P.
---
Very pleased, highly recommend – August 5, 2016
Very pleased, highly recommend
I have an old barn that I use for my farm. There were problems with the roof, a post was rotted and it had sill and joist damage. I contacted Colonial Restorations and they got back to me quickly to set up a site visit. The beams were replaced with oak 8×8 beams and the joists were 6×6 oak beams. I contacted Colonial Restorations and they got back to me quickly to set up a site visit. Tom came and went through the barn with my husband and I, discussing what he saw and what problems should be addressed. He prepared an estimate that we received the next day, which he prioritized based on what the barn needed first. Tom and Brad (a father/son team) showed up a few months later as they said they would. The project went smoothly. When they discovered more damaged joists (which weren't visible until they started), they told us right away and gave us the cost to repair which we did. They cleaned up everyday which was important as we have many animals and small children. To their credit, they even dealt with the 100+ free range chickens wondering in and around the barn. They are both knowledgeable on older homes and we learned a lot about our barn and house that we didn't know. We would definitely use them again in the future and recommend then to others.
Amy E.
---
Excellent! – August 2, 2016
We were very relieved to find Brad and Tom Green of Colonial Restorations to replace two rotted sills on our 1814 home. Every interaction was professional and punctual from the initial visit to the final clean-up. The quote was detailed and inclusive so we knew exactly what to expect. Brad and Tom worked around our travel schedule and did everything they said they would. Once they started the job, they came every day until it was completed. This was especially important since we had a plumber, electrician and dumpster we needed to schedule around their timing. We were not looking forward to getting the sills replaced but the experience was much smoother than we expected thanks to Brad and Tom. Last but not least, they are really nice men who we enjoyed getting to know! Highly recommend!
Kay and Edmund Prescottano Medfield, MA
---
Brad & tom helped with the restoration of my family's 215 year old barn on both levels. They were on schedule and even worked around mine, having horses that live in the area underneath. Several times I had to ask them to change it for me due to complications with my horses and they were understanding and came back when the timing was right for me. They work fast, safe and do very quality work. They also are willing to add on projects that were not scheduled originally and will point out issues that were not noticed that need attention. However it is always the customers decision to add these on without being pressured to spend more money on your project. I would recommend this company to anyone who has an old barn thatneeds repairs. They have a love for them and it shows.
C Carpenter
---
Replaced sills on the back wall and one side wall of a 200+year old barn and replaced support posts and/or added bracing where needed. They arrived on time and when they said they would. Very friendly, courteous and accommodating. Willing to explain to us the work necessary to be performed and gave thorough explanations if additional work was needed – know their stuff. Very organized and conscientious – no stalling on getting to work. Work was finished on schedule with the barn repaired and the work area cleaned up. They take pride in their work and value the importance of preserving old structures. We will have them return next year to continue working on the same barn. The finished product was well worth the price. Amazing the work these two men do!
Dan & Peg Arguimbau
---
Colonial Restorations replaced the sills, reconnected the basement joists, and installed new lally columns. Began project on time, finished on time (working around weather issues), thoroughly
explained every step of the process and came in close to budget. Tom and Brad are very personable, work very hard and clearly know what they are doing.
Frederick S.
---
We are very happy that we found you guys to repair and replace some of our houses structure. The craftsmanship and the ability to work with us was more than we ever expected. I saw some of the beams, fully prepped with joints cut, they looked almost like the originals. I couldn't believe it. You guys took out our jack screw maze and replaced them with wooden 8×8's that look much better and provide us with a lot more room. We will definitely refer you to anyone that is considering or in need or repairs to there house. We could not be any more pleased or in aww on how you two accomplished, what we thought as impossible.
Thank you very much,
The Fafard's
---
We had Tom out to our 1808 colonial farm house to inspect the sills. Some of the sills we knew had damage, others we crossed our fingers and hoped for the best. During the inspection Tom confirmed that we did have a rotted section and he could also tell that the back sill had rolled and was indeed rotted.
Two sides of our house rest at or below grade and had been covered in cement, making it harder to tell what was happening to the sills. As you might guess, these two sides were inaccessible from the basement (crawl space) as well. We contracted with Colonial Restorations to do the sill work for what we were told was bad and would see what other mysteries would be uncovered.
Tom and Brad showed up when they said they would and went to work. They uncovered the first sill which had gone from 8X8 chestnut to 3X3 shredded wheat. The house was braced for support, the old sill was removed in sections and replaced with new 8X8's. We were kept informed step by step as to what progress was being made and what they were finding. Tom and Brad worked on our job everyday until they were finished. Colonial Restorations stayed to the quote and were a pleasure to work with. This is a messy job and it does take time to do it right. We are happy to recommend Tom and Brad to anyone who might be considering a sill job, or any restoration work on an old house.
Thanks for getting our house back on good sills!
Dwight and Susan Blake
---
Dear Tom and Brad,
Many thanks for saving the barely-standing barn ….. and replacing all those nasty house sills. You're miracle workers!
I honestly think Colonial Restorations were the only professionals who could have done this massive job so well.
Some of the things that made you so special in addition to being brilliant barn restorers were the fact that you were great at keeping me informed every step of the way, explaining options when there were options but taking no short cuts to jeopardize the integrity of the structure. And how you were able to be punctual day after day for months on end is beyond me! I was also impressed with how safety conscious, neat, prepared and trustworthy you were.
For the next two hundred years people will be impressed with not only your brilliant craftsmanship but with the superb materials that were used!
Linda Davey, Abington, MA
---
Colonial Restorations did a very professional job restoring our early
1800 chestnut post and beam barn. They really took the time to
explain the process of restoration and worked with us to achieve the
desired result. Their craftsmanship was superb and their fees are
fair and extremely competitive. Our barn is a real showpiece in town
and will be around for at least another 100 years!
Damian and Cathy Dupuy, Millis, MA
---
Holy Cow! The cellar looks beatiful. Absolutely 100 times better. Thank you. You two are definetely worth it. I love it!
Owners of 1825 home in CT. Substructure was replaced.
"I have been showing the new sills, beams and post replacement work to a lot of people. Construction workers, neighbors and friends. They are all impressed. I would heartily recommend Colonial Restorations to anyone who wants good, solid work done on their home. My home value has increased by a much greater amount than the cost."
Janet S. MacDonald Princeton MA
---
Tom and Brad Green of Colonial Restorations have structurally restored a post and beam dairy barn which we own in Heath, MA. Communications were
extremely smooth and there was no problem accommodating extra work that I
requested at the last minute. Tom also figured out a way of replacing a
purlin without disturbing the roof.
We were presented with choices from the start concerning materials and
techniques. Furthermore, the job site was left tidy. I would recommend
Colonial Restorations without reservation to anyone contemplating this kind
of work.
Nice job and thanks!
Will & Anne Emmet, Heath, MA
---
Our special thanks to you and Brad for the great job you did on our barn restoration project. We were very pleased with the estimating and construction process, and we appreciated your attention to detail. You both worked very efficiently and also kept our property clean. We appreciated the phased scheduling, as it allowed us to keep the building in use. Your work is holding up well to the extreme weather we've been having. The extra time and effort you put in were certainly worthwhile. We look forward to working with your company again in the future.
David Cook, Whitman, MA
---
I would recommend Colonial Restorations to anyone.They are extremely professional, they are there when they say that they will be there, and they don't leave a mess. I have complete trust and faith in their recommendations, as they were always forthright on what needed to be done vs. what could be done to be aesthetically pleasing.Tom and Brad replaced our sills, jacked up the corner of the house four inches and replaced beams and put in posts in the basement.Those beams and posts in the basement are one of the first things that I show people in our late 1700 – early 1800s post and beam home.My friends and family are impressed with the work as well.Tom and Brad do an outstanding job and I now know that my house will stand another 200+ years.Thank you guys!
James and Amy Casey, East Brookfield, MA
---
Colonial Restorations repaired the foundation of our 18th century colonial. The house had been badly neglected before we bought it and needed extensive repairs. The job took several months.
Tom and Brad:
Were courteous
Were readily accessible by phone
stuck to their schedule
took the time to answer any questions
clearly explained which sills needed to be repaired and why
took the time to make last-minute consultations
made emergency *(see below) repairs(important for the two reasons): 1. the structural integrity of the house 2. the short timetable of renovations we were making on the house.
George & Jenna Michaels, Andover, MA
* The initial work we did for this client came about while another contractor was working on the house. A potentially dangerous situation existed. We actually looked at this project on a Christmas Eve. The necessary material took about a week to get and we installed in on New Years Eve day.
---
When buying our colonial, the inspector pointed out that two of the wood support columns in the basement were rotten, causing the house to sag. Other columns were only temporary. He warned that his expretise was not enough for a complete picture of any other work that might be needed. In addition, he said the floor joists needed hangers to solidify their structural attachment.I called Tom for a pre-purchase inspection, to make sure that this job would not run in the tens of thousands, in which case we would likely not proceed with the purchase.It turned out that only the work foundby the inspector was needed ($5k) but still granted a price negotiation, and after we closed on the house, Tom and Brad came in to complete the work, which was an easy job for them.The work was completed in three half days of work to the satisfaction of us and the building inspector. Thanks!
Ingvar and Ana Paula in Winchester, MA
---
It came as a huge shock for us this fall when a deck-building project
unexpectedly revealed a rotten foundation sill in my 130-year-old
home. The rotted sill threatened the structure of the house, and my
current contractor did not have the expertise to deal with it. The
project involved jacking the house up very slightly to pull out the
old sill and replace a new one, a terrifying prospect given that the
interior had just been renovated at great expense of time and money. I
found Colonial Restorations on the web, and when Tom Green came out to
see me it was an incredible relief to meet someone who knew foundation
sills like the back of his hand. His schedule was backed up for
months, which was a problem because work on the deck could not proceed
until the sill was fixed. They squeezed me into the schedule, and his
team did a superb job replacing the sill with no damage to my home. My
other contractors and the building inspector were impressed. Since they
were kind enough to fit us in, we were able to finish the deck project
just in time for the first blizzard scheduled for Saturday.
–Owner of large Boston home built cerca 1890
---
Dear Tom & Brad,
I wanted for write you and formally thank you for the fabulous work you did on our Circa 1682 home in Marlborough, Massachusetts this past month.
When my husband and I came to you in September, we presented quite a challenge with the short timeframe for completion; special requirements on project documentation for legal purposes and then having to coordinate all aspects of the work with the city inspector, the structural engineer –which was further complicated with my crazy business travel schedule.
Your team did an exceptional piece of work on the restoration / repairs of the two main sills, the posts and all the "extra surprises" we hit along the way. Everyone from the structural engineer, the town inspector, our buyers and friends have commented on your team's capabilities and quality workmanship.
But for us, it was not only the fact that you
were here when you said you would be here
did what you said you would do
at the cost you had estimated
— but more importantly— went the extra mile by
adjusting your schedules to "fit us in" so as to complete prior to 10/23/08
working long days and the weekends to get the job done by the date we needed the work completed
being so understanding of all the other challenges we had to work through
You are absolutely "tops" in my book and we would be so happy to serve as a reference for you—not that you probably don't have a zillion other fabulous references— but that we would be honored to do so.
Repairs on a home or this age are very special and require unique skills and training. Your team has all of that, plus extraordinary professionalism and "heart!"
Thanks again for a super job!!
BJ & Larry Bliss